August 2009
Wayne Hussey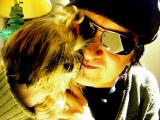 Wayne & Tinkerbell

E-Mail Q & A by Petra
August / September 2009

Thanks Dave W. for the input!



Q: How`s life in Brazil? Hope you`re completely recovered from your hernia op back in May?

A: Life in Brazil is good. I've really enjoyed the time I've spent at home so far this year. I spent too much of 2008 away from home and by the end of the year it had taken it's toll and I was pretty burnt out with a couple of newly formed bad habits that I needed to kick before real addiction took hold. So yeah, now life is good. Spend half my time in Sao Paulo, we have a small apartment in the pretty lively Santa Cecilia area, and half my time at our "chacara" about 3 hours drive from the city. So, I get the best of both worlds when I want and need, city & country life.
And I also at last found the time to have my long needed hernia op from which I have now pretty much fully recovered but with a lovely 4-inch scar in the groin area as a souvenir. I like scars, don't you? Particularly scars in intimate places. Anyway, thanks for asking.



Q: It's almost one and a half years without The Mission and you were quite busy with several projects, but don`t you miss anything apart from the "do an album, do interviews, do a tour…and start again" routine? How do you see yourself now?

A.) Really? It's already been that long? Doesn't time fly... No, I'm not missing anything about The Mission, apart from maybe the camaraderie but that would be about all. Mark and I keep in regular contact anyway; he's always letting me know what he's up to and it's good to hear he's been so busy. Unfortunately I missed him when he was in Brazil with Peter Murphy. I was in Europe at the time. And I hear from Rich every now and then, which is always lovely. I'm sure you know that he's a Daddy again! And the last time I heard from him he was writing and recording music for TV. So it is good to see my boys busy and in demand. I haven't heard from Springy since we left the Empire at Shepherds Bush on the last night of the four. But that suits me fine. As I'm sure it does he, too.

I'm still working out what my next move will be; I still don't really know what I'd like to do next. But it feels great being able to take my time deciding.



Q: Back in February you played two new songs in Germany (working titles: Bouquets And The Bow and There`s Nothing Left Between Us). Are they intended for a future solo album release? Are you working on more new material for another solo album or even on another Mission album for the 25th anniversary of the band? ;-)

A.) I think I kind of answered that one with the last question. I still don't know what I will do with my new songs. I think at least one of those two songs you mentioned will make it onto the album I'm recording with Julianne Regan.

I'm constantly coming up with new tunes, a few of which will evolve and develop into full songs at some point and some of which will become instrumental pieces but most of which will get discarded along the way.

One thing I can tell you for sure though is that there will NOT be a new Mission album for the band's 25th anniversary. But you already knew that, didn't you? You're just trying to provoke me, aren't you? ;-)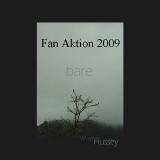 BARE
Q: But speaking about albums: Your solo album BARE will be released officially through SONY in October. Four live tracks were added (see NEWS & BARE for details). And SPV is planning to release another The Mission album in September. What`s that all about?

A.) Mmmmm... Yeah, I was approached by Joerg who runs the Echozone label who also coincidentally released the Dead Guitars and MGT's Mob Research albums and he proposed a "proper" release for "Bare". It will enable us to get it into the shops and other outlets where it hasn't previously been available so I guess that's good. We'd almost sold out of the first run we manufactured just through the MWIS website and selling it at shows and it was time to make the decision to either manufacture some more CD's or just leave it. My instinct was to leave it until Joerg (and George, my manager) stepped in and persuaded me that it would be a good idea to release it with Echozone. We have nothing to lose by doing so and it may just get heard by people who wouldn't ordinarily be interested in listening to a Mission record. Joerg had also recorded my solo show at the Bochum Matrix last year and he sent me the mixes and I had a listen and thought there was a run of 4 songs with myself on the piano that sounded pretty good to my ears and I also liked the between song chit chat so we decided to include them on the officially released CD. I'm sure there are gonna be accusations from some quarters (and they shall remain nameless but we all know who they are) of trying to fleece my audience that have previously bought the album but at the end of the day people have a choice to either buy or not. And I do believe the new extra live tracks will be available to buy individually as MP3 downloads.

So, the SPV album... Well, when we did the initial deal with SPV for the DVD of the last Mission show at Shepherds Bush, along with the DVD release we planned to include an audio CD compiled from the four nights of tracks that hadn't been previously released on the already numerous releases from those shows. 3 DVD's and 1 audio CD a nice package maketh, we thought. Anyway, as we now know, SPV were going through a bad time financially so, in an attempt to maximize their investment, about 3 or 4 weeks before the DVD release they decided in their infinite wisdom that they wanted to release the audio CD separately.

Of course in light of all the other CD releases from the Shepherds Bush shows we argued that it was a quite pointless release on it's own and told them that we wouldn't support it's release. Unfortunately, as SPV pointed out, legally they could release the CD without our blessing. We did, however, persuade them to delay the release of the CD for 6 months or so until this month.

Anyway, I have to be fair here and say that over the years we have actually enjoyed a relationship that has been both mutually respectful and supportive with SPV and never draconian in nature. They listen to us and we listen to them. Don't always agree but that's how it should be in a healthy relationship.

So, with our ongoing conversations and SPV knowing that we are not happy the release of this CD has once again been postponed whilst we negotiate with them about including some previously unreleased material to make the release more valid. The situation is complicated further by the fact that SPV are currently negotiating with Sony, I believe, about being bought out so we will have to wait until those negotiations are complete before it's eventually decided what will happen to our proposed CD release.

From a personal point of view, the only way that I can condone the release of this CD is if I am allowed to contribute something new and previously unreleased, maybe complete the unfinished material that was recorded during the GIAB sessions, just something, anything to make it more of a "grains of sand" or "aural delight" rather than just another "live" album, a genre of which I am not a fan anyway at the best of times.

As we say in Brazil, nos veremos.



Q: Can you tell us a bit more about the GIAB outtakes?

A.) There were 3 other songs that we recorded the basic backing tracks for during the GIAB sessions but for one reason or another never got around to completing. My hope is that we can finish them for the aforementioned SPV release. Otherwise I can see them staying forever hidden in the vaults. And that would be a shame as a couple of them are potentially very, very good.




PROJECTS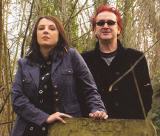 Julianne & Wayne 2006, Uncut Magazin
Q: Is there any news about your album together with Julianne Regan (All About Eve)? Lots of people are looking forward to it and some have made suggestions of songs they would like you to record together. Have you chosen any of them? Could you please give us a hint for the release date?

A.) Well, we've been working on the album off and on since maybe April. We've been working on it when we've had time and felt like it. There is no release date. It will be released when it's completed and we are both happy with it. That was one of the conditions that we both insisted on at the outset of the project. No schedule, no record company breathing down our necks, no pressure. At the moment it's mostly cover versions, a couple of which I can tell you are Duran Duran's "Ordinary World", Depeche's "Enjoy The Silence", and Nick Cave's "Where The Wild Roses Grow". As well as covers and a couple of new tunes the plan is for the album to also include an AAE song and a Mission song. Julianne and myself are playing all the instruments. Again, it was agreed at the outset that there would be no guests on this album, just Julianne and myself.

And yeah, I've been keeping an eye on the thread on the MWIS forum as to suggestions of covers. Some very interesting & imaginative suggestions as well as some very obvious choices too. Maybe it should be a double album!



Q: You live in Brazil and Julianne in UK. So how does it work? Do you send each other the files only via internet or will you meet in person at any stage of the project?

A.) We've been working exclusively via the internet thus far, sending audio files back & forth. It's good but I do sometimes miss the immediacy of actually being in the same room together. We do have tentative plans to at least get together to mix the album which will more than likely be in the UK due to Julianne's fear of flying.



Q: Last year you have been asked to contribute music to a spoken word album by a Swedish author. You were very excited about it. Did it ever happen and will it be released?

A.) This is another project that I have at last found time for in the last few months. I sent Marcus Birro and Mats Lernaby (my two collaborators on this project) a whole multitude of musical ideas for them to sift through, maybe 30 pieces of music in various stages of development. They are working their way through them and deciding which ideas they like and are suitable for the project.
Yes, I am still very excited by this project but again, as of yet, no release date.



Q: You were part of Miles' "Shared" project and the Shared album has just been released inc. three songs with you, accompanied by Erica`s beautiful violin. Are there any plans to make a proper album only with Miles & Erica?

A.) Well, it was an idea we came up with during our US tour together last year and the idea was/is contingent on Milo & Erica coming down to Brazil to stay at mine and work in my studio but as of yet they haven't had the time. Hopefully when we tour together later in the year the idea will be resurrected and I will eventually persuade them to get on a plane to South America. I'd still love to do this at some point and I'm sure both Milo and Erica are up for it too. Like everything else, it's finding the right moment for it.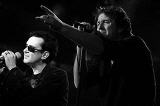 Wayne & Carlo, Bochum November 2008
Q: The Dead Guitars supported The Mission on their Farewell tour and you (and Mark & Rich) appeared on their latest album FLAGS. Some months ago you were in touch again with the Dead Guitars regarding a tour together. Unfortunately it never happened due to your operation. Can we hope for another attempt?

A.) I don't think it's any secret that I really like the Dead Guitars and was really looking forward to joining them for a tour as a guitarist/pianist but health comes first and I had needed this hernia op for several years now. Who knows if I will ever get to tour with the Deadies now, maybe if our schedules permit, but going out on tour with a band and playing guitar and keyboards and not being the frontman really appeals to me at this point in time.



Q: Back in 2008 you told me you wanted to write a book, a kind of loose autobiography. Have you already started to write?

A.) No, not seriously. Just a few remembrances typed out on my laptop. Actually, I have been thinking about this a little more recently and I'm starting to think there is a certain kind of conceit in writing an autobiography and I'd argue that I'm not conceited enough for a venture of this sort although I am sure there are a lot of people that would argue differently. Arrogant maybe but conceited? No, not guilty, your honour.

I have been working on an idea for a novel though. I have the story in my head and the first and last lines of the book, I just need to write all the rest of it.



Q: You have collaborated with a lot of different musicians in the past. What about future projects? Can we anticipate more new and unexpected musical experiments from you?

A.) Basically I'm open to any and all ideas, as long as it excites me. I'm sure there are gonna be projects that will raise a few eyebrows and exclamations of "What the hell is Hussey up to now?" and projects that will conform to what is expected of me. Variety, my dear, is the buffet from which I'd like to feast.



Q: Are there any other projects that you are involved with at present?

A.) I have a secret band in Brazil called "The Pornographic Angels" which is essentially Victor Rice (he plays cello with me sometimes) and myself and a revolving cast of players including Andreas Kisser from Sepultura and Jon Longford. [You can read a Q&A with Victor by Michel HERE] This band is so secret that we've not yet played any shows or done any recording. It's one of those bands that is great in your head and the people that you talk to about it when you're imbibing together all want to be involved. We have found a fantastic residential studio just outside of Buenos Aires to record our first album in. When we will is another matter. We have a manager, a logo, a band creed, and everything.




TOUR
Erica Nockalls & Miles Hunt
Q: In November / December you are touring Europe (inc. UK) with Miles Hunt & Erica Nockalls again. Some dates have already been leaked. What can we expect? Will it be one set each or are you going to play one set together?

A.) The shows will more than likely take the same form as our US tour together last year. We'll both play our separate shows and then all get together at the end for a sing song.



Q: Are there any other guests planned?

A.) What more do you want for your money? Well, in your case, Petra, no money will be involved as you will no doubt be on my guest list, but for everyone that does buy a ticket they get not just me, and not just Miles, but the lovely super talented Erica as well, a bird of paradise amongst crows.



Q: There were also plans for a festival in Sao Paulo in August (Madame Sata Festival). This festival has been postponed due to "swine flu" and will now take place in October. Are you going to play there or will you play any other South-American shows?

A.) Well, the organizers CLAIMED that it was postponed because of swine flu but I suspect there were other less savory reasons. I'm not at all convinced it will go ahead and no, I won't be playing. I heard about it's postponement the same way that everybody else did, by a generic email. I did agree initially to play the festival primarily because I was told that NMA, Marc Almond, & Nitzer Ebb were all appearing but no contracts were ever issued or signed and they started advertising the event before any of the acts had actually confirmed. All very suspect. I haven't heard directly from the organizers once since they postponed so I would recommend anyone that was considering going to wait until the very last minute before buying tickets. Sorry Andrezza and Michel.
I am, however, looking at playing some South American shows in the spring next year.



Q: Let`s change the subject. I know that you liked Muse in the past, but you were quite disappointed by their last album. Now there`s a new album in the pipeline. Will you give it a listen? ;-)

A.) Sure, why not? Yeah, I do like Muse but I just found the last album to be a teeny little bit over the top for my tastes... More Queen than Radiohead



Q: And finally the unavoidable question:
Any news regarding a 25th anniversary show / tour / album / dvd?

A.) No.

That was quite clearly ;-)



Thanks again for your time and effort. Have a great tour...
Petra